ENN EC Won "2017 Best Practice Award for Corporate Social Responsibility"
(November 22, 2017, Beijing) - Yesterday afternoon, the 2017 "China Corporate Social Responsibility" Summit Forum, sponsored by China Business News, was solemnly held at Shangri-La Hotel in Beijing. At the forum, ENN Ecological Holdings Co., Ltd. (hereinafter referred to as "ENN EC", SH 600803) won "2017 Best Practice Award for Corporate Social Responsibility" for its outstanding contribution in the field of corporate social responsibility for many years.
Figure 1: ENN EC Won "2017 Best Practice Award for Corporate Social Responsibility"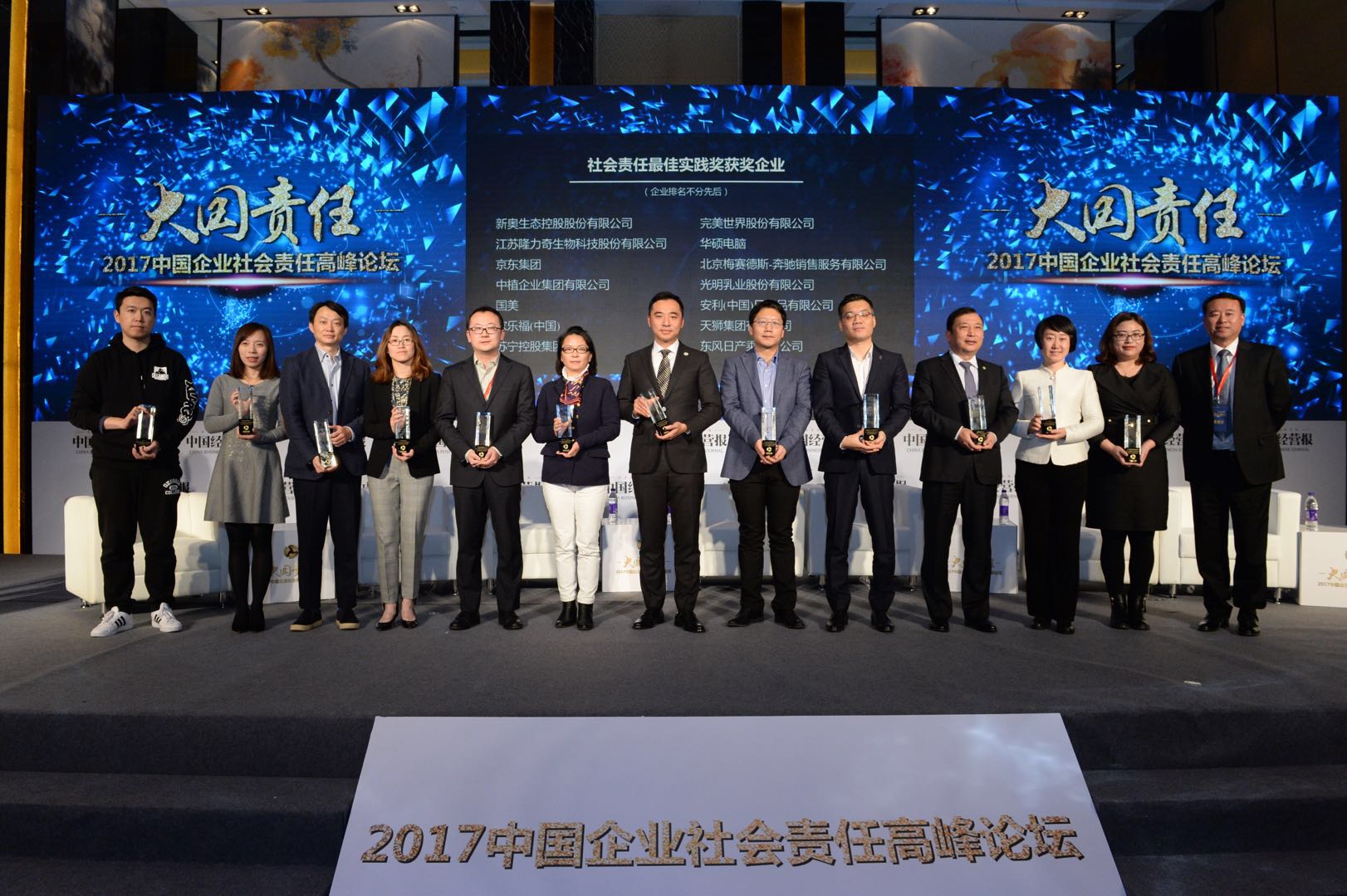 As an energy enterprise, the requirements for social responsibility practice and sustainable development run through the whole process of ENN enterprise development strategy and production and operation, following the development concept of "innovation, coordination, green, open and sharing". ENN EC insists on innovation drive, focuses on transformation and upgrading, optimizes resource allocation, comprehensively improves quality and efficiency, and promotes the creativity of economic, social and environmental comprehensive values.
As a long-term enterprise committed to social responsibility, its chairman, Mr. Wang Yusuo, once said: "actively undertakes social responsibility, which is the corporate gene and survival cornerstone of ENN EC. The starting point for us to fulfill social responsibility is to adhere to the combination of corporate strategy and national strategy. The mission of fulfilling social responsibility is to persist in creating beautiful ecology, continuously carry out energy innovation, and the driving force for fulfilling social responsibility is to persist in feeding wealth back to people and society."
Zhong Hongwu, director of the Corporate Social Responsibility Research Center of the Chinese Academy of Social Sciences, also mentioned in his speech at the forum that excellent enterprises shall use strategies and business to solve social and environmental problems and devote themselves to making human society better. If an enterprise can turn social problems into its own business and development strategy, it will become a leader in the industry. In the battle against poverty in our country, enterprises play an increasingly important role. In the late stage of poverty alleviation, especially after all the poor in China have been lifted out of poverty by 2020, enterprises can play a greater role in sustainable poverty alleviation and ensuring that they will not return to poverty.
Figure 2: Outstanding Enterprise Representatives Share Poverty Alleviation Practices in "Enterprises Poverty Alleviation Battle"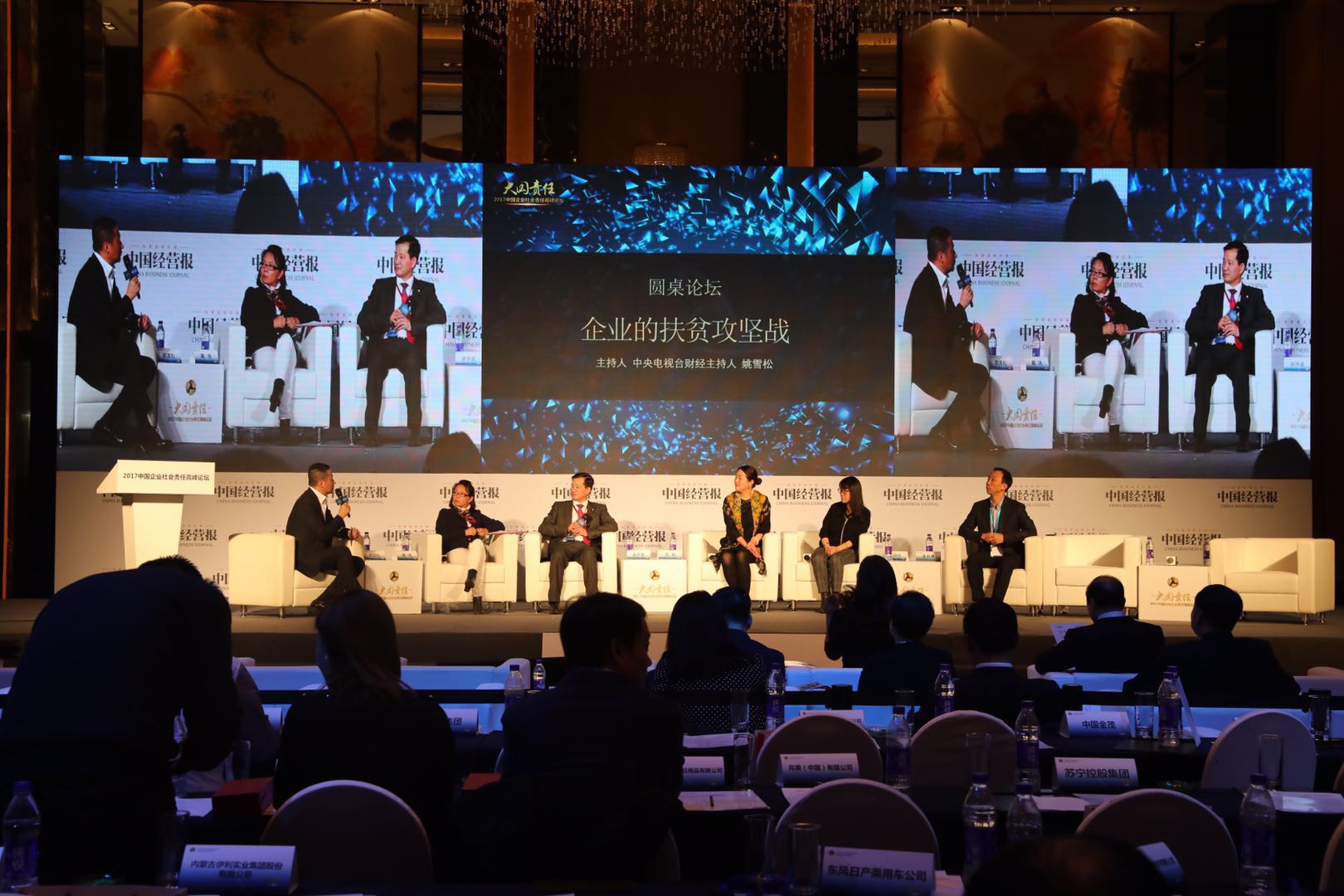 In terms of the precision poverty alleviation, ENN EC performed particularly well. According to the requirements of Hebei "Thousand Enterprises Help Thousand Villages" Precision Poverty Alleviation Action Plan, ENN EC has identified five villages in Baoding Yi County, Luotuoyu Village, Niugang Village, Shangwopu Village, Nanwopu Village, and Shuajiancaogou Village in Chongli District of Zhangjiakou as enterprise assistance targets. In combination with the reality of the enterprises and the aid recipients, ENN EC has made it clear that "takes solving practical problems as its starting point and adheres to the principle of seeking truth from facts. Long-term and short-term combination, helping measures focus on long-term results; Starting from the local and considering from the overall, the working policy of achieving win-win development for the target of assistance and ENN industry" has been to connect with the county and village governments at all levels successively, to fully communicate with the resident village teams, to organize the staff to carry out on-the-spot visits to assist the villages, and to discuss the action plan with the villages. In 2016, two villages in Yi County of Baoding were clearly defined, with emphasis on improving the village infrastructure and the conditions of poor households due to school-related diseases. The three villages of Chongli in Zhangjiakou focus on providing energy solutions free of charge in combination with the construction plan of beautiful countryside. At the same time, the basic direction of providing appropriate subsidies to poor households with filing cards is to carry out an accurate poverty alleviation model based on industrial assistance in 2017 and 2018 according to the actual situation of each village and the demand situation of poor households with filing cards, which has been well received by the local people and the government.
ENN EC, as a representative of an outstanding listed company that practices corporate social responsibility, said Mr. Shi Yujiang, vice president and secretary of the board of directors of the Company: "as an important component of the overall natural gas industry chain layout of ENN Group, ENN EC will firmly grasp the great opportunities for the development of China's natural gas market, increase domestic natural gas production through continuous technical innovation, and obtain more overseas natural gas supply capacity through cooperation with Santos. With practical actions, ENN EC will be steadfast, diligent, and improve its ability to serve and repay society through innovation."